Kenneth Peterson
(Cionaodh Mac Pheadair)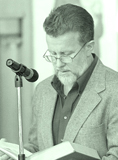 Kenneth Peterson (a.k.a. "Cionaodh") began studying Irish in 1982, first on his own and later with various teachers in classroom settings and in private study groups.

Cionaodh began teaching others in 1989, first as a substitute teacher, then in 1992 taking on his own classes. He has held courses in 7 locations in three states since then, most recently teaching Irish in central Massachusetts again after 11+ years having taught in New Hampshire. He has guest lectured on the Irish language at Clark University in Worcester, and was a language software consultant for two successful Irish language programs. He has also tutored numerous students in the Irish language via the internet.

Cionaodh has spent a quarter century getting successful New England Irish classes up & running, and through trial-and-error has crafted an organizational strategy for Irish language courses that has been unmatched in its success throughout New England. His Fall, 2003 class location in Manchester, New Hampshire attracted over 70 students with course offerings that included advanced-level Irish!

When he is not teaching Irish, Cionaodh is a freelance graphic designer and
amateur arborist.
|
|
|
|
|
|
|
|
|
|
|
|
|
|
|
|

Peter Vatne has been studying Irish since his first class with
Kenneth Peterson in January, 1994. He has gone through the entire
Progress in Irish book more times than he can count! Peter is currently reading and
translating Harry Potter agus An Órchloch with fellow students from Manchester, NH.
Peter is partly Irish from his grandmother, and can trace his
family's roots to Moycullen, County Galway.
He has visited Ireland five times, most recently in 2015.
In addition to Irish, Peter is also currently studying Norwegian and Italian.
He claims these languages are all different enough that he doesn't
get them confused!
Peter lives in Nashua, and is a retired Software Engineer
from Digital/Compaq/HP.