Photo Gallery
Here are just a few photos from our archive . . . many more to come, so check back often!
Got a Conradh na Gaeilge image to add to our gallery? Send it to us.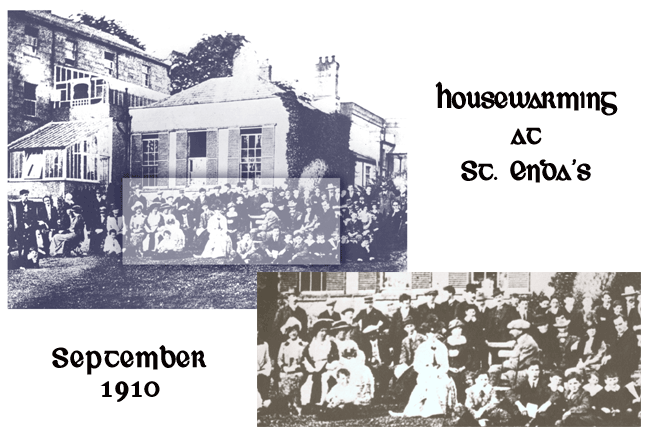 In 1910, Patrick Pearse moved St. Enda's from Cullenswood House to Rathfarnham. Conradh na Gaeilge's first President, Douglas Hyde, is seen in the inset photo seated on the bench wearing a cap, looking sidewise. To the right of him is Margaret Pearse, mother of Patrick Pearse. Beside her is Professor Eoin MacNeill, who went on to become Chief of Staff of the Irish Volunteers and a successor to Douglas Hyde as President of Conradh na Gaeilge. Patrick Pearse is seated at the far right of the photo. Standing at the far left beow the window is Éamonn Ceannt, Irish language enthusiast and Irish patriot, who later fought with Patrick Pearse at the G.P.O. in Dublin during the Easter Rising of 1916.
An Timire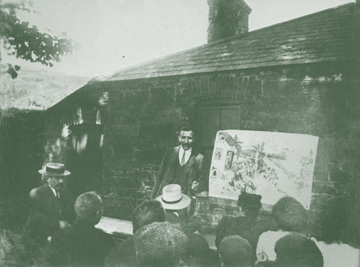 A Conradh na Gaeilge Timire (travelling teacher) holds an open air class in Ballingeary, Co. Cork in 1905.
Manchester, New Hampshire -- 2003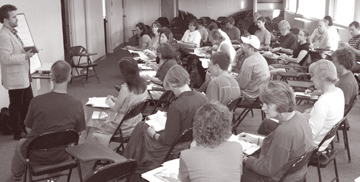 More than 50 students crowded into the beginners' Irish class in Manchester New Hampshire in September, 2003.
Many students attending that semester went on to become founding members of Conradh na Gaeilge Shasana Nua.